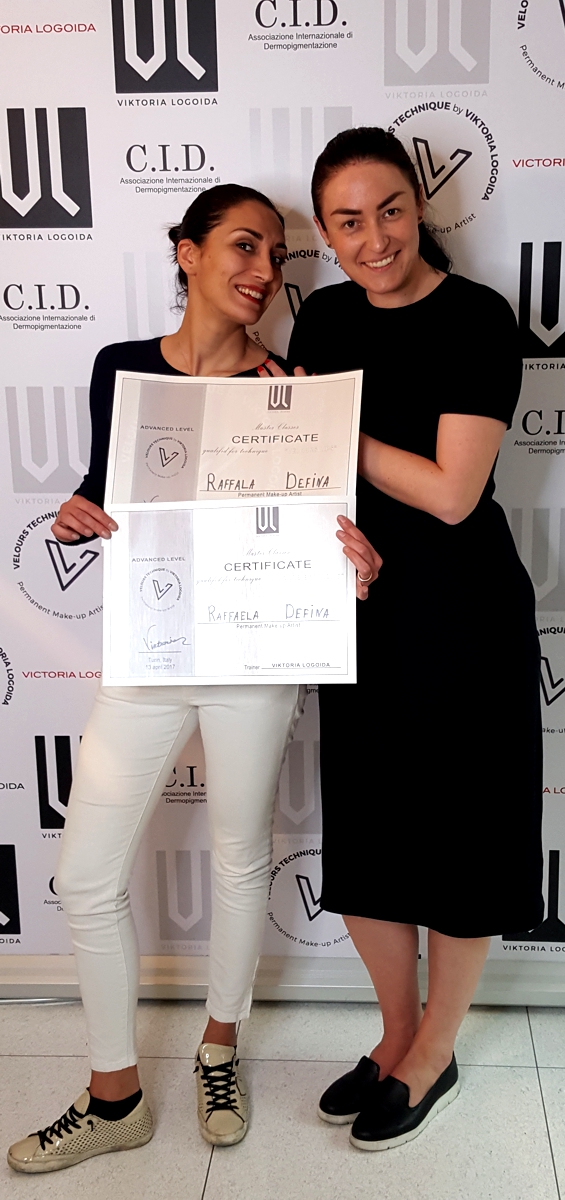 INDIVIDUAL COURSES PMU ADVANCED
WITH VIKTORIA LOGOIDA IN TURIN
The  INDIVIDUAL COURSE always takes place in Turin and concerns the teaching of the various advanced techniques. Every single day is dedicated to teaching a single technique.
In detail you can choose
REALISTIC SHADING with the "®VELOURS" technique with a single point needle fot the three areas ( lips, eyebrow and eyes).
REALISTIC HAIRED HAIR with  " ®CHEVEU" technique with one-pointed needle (eyebrows).
COMBINED haired hair and shade "®VELOURS" + "®CHEVEU" for realistic effect (eyebrows).
The theory and the right practice are taught for each technique starting from the right hand position and the position of the operator, from the pendulum movement technique to the correct pressure on the skin, from the architecture of the face to how to make a preparatory drawing in just 5 minutes.
In one day you can make an area for a technique (lips or eyes or eyebrows of your choice).
At your disposal all the material is included but you have to bring your device with which you work for practical tests.
The day is divided into a theoretical part and a practical part on synthetic leather and, you can also opt for the practical test on models. In this case you will have 2 models available for the practical test for each area (per day).
The treatment on model will be carried out by you under my direction and my strict control, direct, step by step from my advice.
Duration of the course in one day from 10.00 until 18.00
The venue of the course is in Turin, Via Vandalino 92. Hotels and B & Bs near the Academy are available at the convention.
After the course a certificate is released for each area obtained with the relative technique.
FOR THE ENTIRE DURATION OF THE COURSE THE SINGLE MASTER TRAINER WILL ALWAYS BE VIKTORIA LOGOIDA
CALL  391.4577627 OR WRITE US vikapmu@gmail.com TO KNOW PRICES